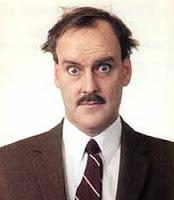 A la vista de vuestros fallos para nominar candidatos competentes para Presidente de los Estados Unidos de America, y por tanto para gobernaros por vosotros mismos, desde este momento anunciamos la revocación de vuestra independencia con efecto inmediato.
 
Asi comienza el mensaje de revocacion de independencia dirigido por John Cleese a los americanos, una excelente muestra de humor en la que se pueden encontrar perlas como:
"You will learn to resolve personal issues without using guns,lawyers, or therapists. The fact that you need so many lawyers and therapists shows that you're not adult enough to be independent. Guns should only be handled by adults. If you're not adult enough to sort things out without suing someone or speaking to a therapist then you're not grown up enough to handle a gun.
Traduccion: Aprendereis a resolver vuestros asuntos personales sin la ayuda de armas, abogados o terapeutas. El hecho de necesitar tantos abogados y terapeutas muestra que no sois suficientemente adultos para ser independientes. Las armas solo deberían ser usadas por adultos. Si no eres lo suficientemente adulto como para resolver los problemas sin abogados o terapeutas entonces es que no has crecido lo suficiente como para manejar un arma.
O:
"All American cars are hereby banned. They are crap and this is for your own good. When we show you German cars, you will understand what we mean.
Traduccion: Todos los coches americanos quedan prohibidos. Son una basura y hacemos esto por vuestro bien. Cuando veais los coches alemanes entendereis lo que que quiero decir.
o…
"You will cease playing American football. There is only one kind of proper football; you call it soccer. Those of you brave enough will,in time, be allowed to play rugby (which has some similarities to American football, but does not involve stopping for a rest every twenty seconds or wearing full kevlar body armour like a bunch of nancies). Don't try Rugby - the South Africans and Kiwis will thrash you, like they regularly thrash us.
Traduccion: Dejareis de jugar al fútbol americano. Solo hay un fútbol de verdad; lo llamais 'soccer'. A aquellos de vosotros que seais lo bastante valientes, con el tiempo se os dejará jugar al rugby (que tiene algunas similitudes con el fútbol americano pero en el que no hay paradas de descanso cada 20 segundos ni se utiliza armadura de kevlar para todo el cuerpo como una panda de nenas). No intenteis jugar al rugby: sudáfrica y nueva zelanda os machacaran, como hacen regularmente con nosotros.
o tambien…
"You must tell us who killed JFK. It's been driving us mad.
Traduccion: Teneis que decir quien mató a JFK. Nos estais volviendo locos.
No he encontrado el sitio original de publicacion, lo encontré por friendfeed, pero lo puedes leer completo en un montón de sitios (y merece la pena).